Already have an account with us but haven't set your password yet? Click here.
Legacy product data
Display PenCarrie product and stock information on your website 

Who are these for?
Existing data users who are already using this format for their websites.
This option will soon be retired as it has been replaced by our Enhanced Product Data or Shopify Product Data. We'll provide notice as to when this option is no longer available. If you're using this data for your current website, we encourage you to start investigating replacing this data with our new solutions.
Please note we're not accepting new requests for this data, if you have a new e-commerce project, please consider our Enhanced Product Data or Shopify Product Data.
Formats available
Pipe Separated Text File
XML
MySQL
MSSQSL
How can I get access?
If you'd like to request access to the options detailed below, please complete the online form. Once completed, the form will be sent to our Marketing team for processing. Someone in the team will be in touch within 1-2 working days with a username and password allowing you access.
If you already have a password, then you can continue to download our data below.
CSV file
This is one file containing all the product data for every product. You'll need to download the image pack separately, or, alternatively, you can link to the live images using the URLs suggested in the export itself.
Download
Support documentation
Understanding the CSV Export Format
The PenCarrie product range is currently exported as a BSV file - this is similar to the comma separated values format except that the fields are separated with the bar character (also known as pipe).
The bar is used as a separator as it is a little used character in descriptive data and is therefore highly unlikely to appear inside fields.
The export file is delivered in Unicode using the UTF-8 format.
Provision should be made for standard ASCII characters in the descriptive data in addition to the following extra characters from the Windows Code Page 1252 character set.
| | | | |
| --- | --- | --- | --- |
| Name | Dec | Hex | Glyph |
| Copyright | 169 | 00A9 | © |
| Registered Trademark | 174 | 00AE | ® |
| Trademark | 8482 | 2122 | ™ |
Separators
| | | | |
| --- | --- | --- | --- |
| Name | Dec | Hex | Glyph |
| Bar (or pipe) | 124 | 007C | | |
| Hash | 35 | 0023 | # |
| Slash | 47 | 002F | / |
The current data export has a first row consisting of header labels, then each subsequent row contains data. There's one row of data for every size and colour product combination (we call this SKU).
The product SKU code is made up of [PRODUCT CODE] [COLOUR CODE] [SIZE CODE] eg SK11 WHI M for product SK11 in colour White and size Medium.
The header row has reasonably descriptive titles; however for some of the more cryptic sounding ones, we've elaborated on their contents below.
foot note - Primarily used for colour and material notices, however this sometimes also refers to product size / colour availability notes.
(colour#hex)+ - This field contains a list of colours and hex codes separated by the slash "/" character. For instance: A product with a colour code of WH/BK may contain this field as "white#FFFFFF/black#000000".
related [1-4] - Related product codes - may be child / adult / ladies versions.
size descriptor [1-7] and size list [1-7]
The size descriptor/list fields contain tabular information about product sizing. Each descriptor (of which there can be up to 7) is a description of what the corresponding size list field information holds. The size list fields contain a list of available sizes separated by the hash "#" character.
An excerpt from the header row and a data row may look like the following.
... Size Descriptor 1|Size Descriptor 2|...|Size List 1|Size List 2|...
...Waist:|Leg length:|...|28#30#32#34#36#38#40#42#44#46#48#|Reg 32#Long 34#|...
This would correspond to the following table of size data:
| | | | | | | | | | | | |
| --- | --- | --- | --- | --- | --- | --- | --- | --- | --- | --- | --- |
| Waist | 28 | 30 | 32 | 34 | 36 | 38 | 40 | 42 | 44 | 46 | 48 |
| Leg length: | Reg 32 | Long 34 | | | | | | | | | |
colour names - This field is similar to the previous colour field but contains a list of colour names only separated by the slash "/" character.
colour hexes - As above but for colour hex values.
image url - The path of the image for a product loaded directly from the PenCarrie servers. Note that the images are offered on a "blind domain" meaning there is no reference to PenCarrie in the URL of the image. For the image path to function correctly, you must replace [CODE] with your customer code which is .
You can change the size of the transferred image using the width parameter - so you can specify a thumbnail size or main image size as in the following examples:
http://our-catalogue.com//images/001M.jpg?width=232
http://our-catalogue.com//images/001M.jpg?width=80
pack price / carton price - these fields are populated where product is available in packs and/or cartons.
pack size / carton size - Quantity of product items in a respective pack or carton.
You'll need a username and password to access the export which you can obtain by contacting Marketing.
Importing the Custom Data Export
To get this export to open in Excel, the following procedure should be followed - note the following guide shows the procedure on a Mac, this should be almost identical on a PC.
Right click on the export link and select download, make a note of where you save the file so that we can locate the file from Excel, as shown below:

If you open the link with a left click your browser will either open the file immediately, in which case you'll need to choose "save" from the browser menu or it may ask you where you want to save the file - depending on your browser.
Before the file downloads, you'll need to supply a username/password in the dialogue box - this will be supplied to you by the Marketing team.
Next open up Excel, start a new "workbook" (spreadsheet).
Choose "File"/"Import" from the menu: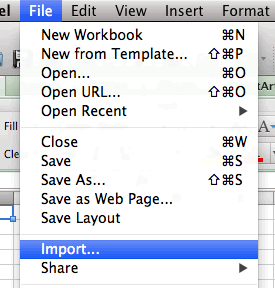 Excel will then ask you what format the data is in, CSV should be selected as follows: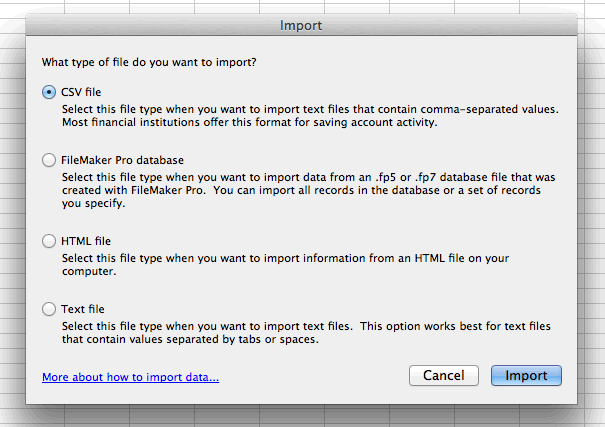 Click Import and the system file browser should open, simply locate the CSV file you downloaded in the previous step. When you've located the file, hit the "Get data" button to proceed to the next step.
The next dialogue will ask you how the data is formatted - you need to tell Excel the data is "Delimited", it usually starts with "Fixed width" selected. Also make sure UTF-8 character encoding is selected in the file origin selection as below: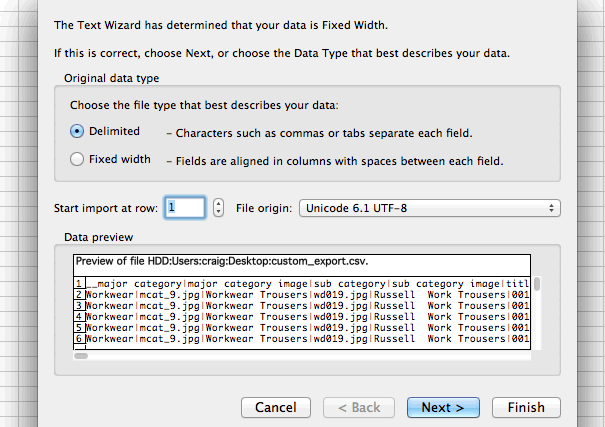 Click Next...
The next page then asks you to specify how the data is separated. Our file is Bar separated "|", therefore we need to choose "Other" from the options and enter a bar in the box. Bar is above the "\" key on the right on a mac, on the left on a PC. As shown below: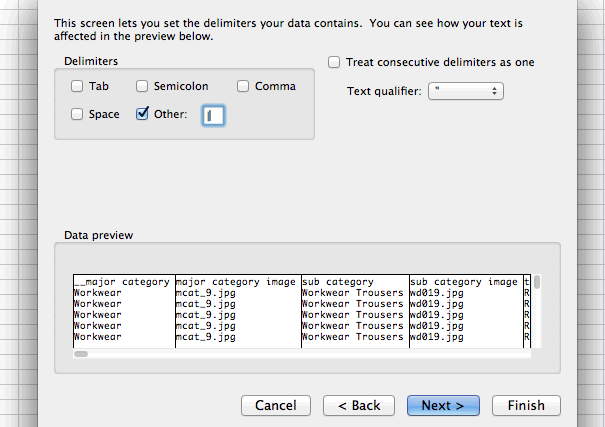 The next step allows you to optionally choose any columns you do not want to import, however for the purpose of this guide just hit 'Finish' to import. Excel then gives the option of which cell to import it to, just click OK if you're working from a blank sheet.
This may take some time to import as the file is quite large.
For CSV technical details, please refer to this page.
Can't find the data you need?